'What more can we do?' The orphan calf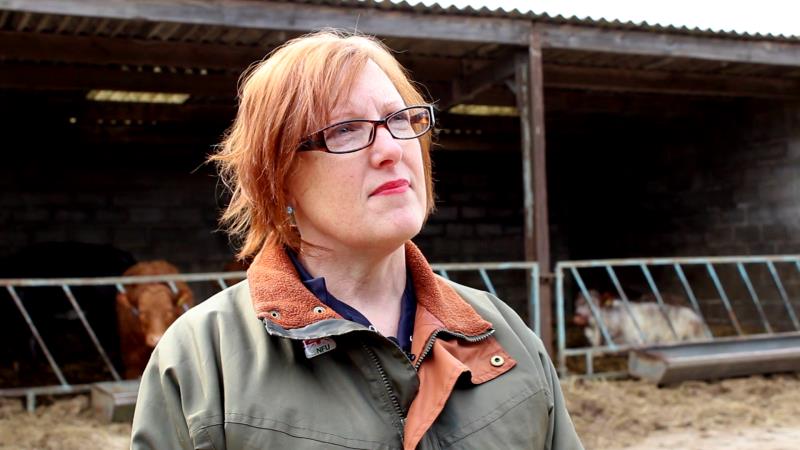 Angela and Barry, beef farmers, Derbyshire
Farmers Angela and Barry are proud to have reared their 80 cattle from birth on their Derbyshire farm.
The health and welfare of the animals is paramount to their business of providing high-quality British beef for the British public.
So when they discovered that one of their herd had contracted bovine TB they were devastated.
It meant their farm would be closed down for a minimum of four months.
Stringent government regulations say that a farm must fully pass two TB tests after 60 days and 120 days before restrictions can be lifted.
The cow that tested positive was pregnant. She gave birth to a calf less than a week after the positive test came back. The 10-year-old mother, which was born and bred on the farm, has now been taken away from the calf and sent to slaughter.
Watch the video:
Angela's experience
"It is very sad that the calf, which is less than a week old, will be without its mother because of TB. We've put our whole working lives into what we thought was best for these animals and yet still we've come down with TB. TB in wildlife and badgers simply must be tackled.
"Our cattle have not been in contact with any other cattle. We double-fenced our boundaries so that there can be no nose-to-nose contact with animals on neighbouring farms. We don't graze cattle in fields that are near neighbouring farms and no other cattle, apart from a bull, have been on our farm. And the bull tested negative for TB. We also do our best to keep the cows away from badger latrines.
"And we grow our own feed, so we know exactly what we they are eating. What more can we do? It's so frustrating and it's difficult not to feel angry about it. We worry that the rest of the herd could contract TB – it's beyond our control."
Find out more